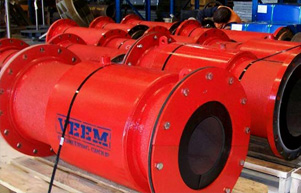 "Forever Pipe" has been specifically developed for the alumina processing industry where weld cladded pipe has been the standard. Being able to choose particular alloys for the inner pipe to cope with highly abrasive and corrosive slurries and to have a pressure vessel approved outer pipe has led to a much better solution for the alumina industry. A solution that cuts through life costs by up to 92%. "Forever Pipe" is rapidly becoming the new standard for wear pipe in the alumina processing industry.
The same approach has been used by the nickel, gold and iron processing industries to increase the operating productivity of the plant and significantly reduce operating costs.
VEEM can supply Timcast  "Forever Pipe" either "as cast" or fully machined with full traceability and NATA certification for mechanical, chemical, and NDT to meet most international standards.
Timcast "Forever Pipe" is manufactured in accordance with following accreditations and or registrations where relevant:
ISO 9001:2008 – quality
ISO 14001:2004 – environmental
ABS foundry Approval
DNV foundry Approval – CU3
GL foundry and welding approval – CU3
IRS foundry approval – copper
RINA approval
Defence industrial security program Cert AF 7294940
Lloyd register approvals
 NATA registrations for:
Acoustic and Vibration Measurement
Chemical Testing
Non Destructive Testing (Mag, Liq Pen, MP PT &Visual Insp)