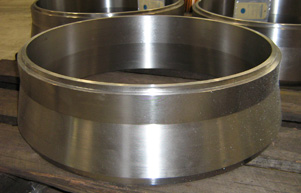 VEEM Limited manufacture Timcast  "Centri Bar" to create wear resistant pipe liners  to stop premature wear from all types of abrasive slurries.  The replaceable internal pipe liner is a relatively new refinery solution to increase the life of wear pipes and reduce pipe maintenance.  The wear resistant liners can be supplied in a range of different shapes and sizes including end pieces or flat plate and birds beak shapes to achieve T joints.
Timcast "Centri Bar" wear resistant pipe liners are produced in a comprehensive range of alloys and can produce custom alloys to suit customer requirements. VEEM Ltd has a NATA certified laboratory to ensure all alloys meet their specified requirements. Common wear resistant grades include;
Wear Resistant Chrome Iron(White Iron)
Wear Resistant Stellite 6
Heat Resistant UMCo50
Hastelloy C-22 & 276
Duplex Stainless grades 2205,2507 & 2RK65
Corrosion and Heat resistant pipe liners are available if the application requires it.
VEEM Ltd can supply Timcast "Centri Bar" wear resistant pipe liners in either "as cast" or fully machined with full traceability and NATA certification for mechanical, chemical, and NDT to meet most international standards.
Timcast "Centri Bar" is manufactured in accordance with following accreditations and or registrations where relevant:
ISO 9001:2008 – quality
ISO 14001:2004 – environmental
ABS foundry Approval
DNV foundry Approval – CU3
GL foundry and welding approval – CU3
IRS foundry approval – copper
RINA approval
Defence industrial security program Cert AF 7294940
Lloyd register approvals
NATA registrations for:
 Acoustic and Vibration Measurement

Chemical Testing
Non Destructive Testing (Mag, Liq Pen, MP PT &Visual Insp)