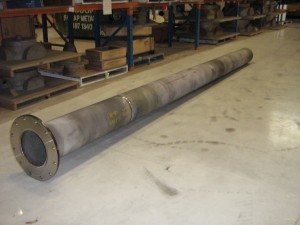 Radiant tubes are used mainly in the heat treating, steel and aluminium industries. By carefully selecting metallurgical properties so the hollow bar can achieve extra high temperatures, high loading and long life can be achieved. Timcast "Centri Bar" is an ideal solution for radiant tubes, as the manufacturing process eliminates weak spots caused through welded seams..
Veem Ltd can supply Timcast "Centri Bar" to the size and exact metallurgical requirements allowing customers the ability to optimise the tubes properties based on the exact application. Common materials used in radiant tubes are UMCO50, Stellite  and other Cobalt alloys, as well as heat resistant alloys such as HK ,HH, and HT.
Radiant tubes are used in
Heat treatment such as continuous hardening, carburising and tempering furnaces.
Aluminium melting and holding.
Dosing Furnaces
Die-Casting furnaces
Aluminium Filter boxes
Magnesium melting and holding
Continuous annealing lines
Galvanizing lines
VEEM Ltd can supply Timcast "Centri Bar" radiant tubes either "as cast" or fully fabricated with full traceability and NATA certification for mechanical, chemical, and NDT to meet most international standards.
Timcast "Centri Bar" is manufactured in accordance with following accreditations and or registrations where relevant:
ISO 9001:2008 – quality
ISO 14001:2004 – environmental
ABS foundry Approval
DNV foundry Approval – CU3
GL foundry and welding approval – CU3
IRS foundry approval – copper
RINA approval
Defence industrial security program Cert AF 7294940
Lloyd register approvals
NATA registrations for:
Acoustic and Vibration Measurement
Chemical Testing
Non Destructive Testing (Mag, Liq Pen, MP PT &Visual Insp)