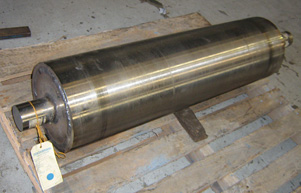 Furnace rolls are used to designed to carry the full weight of the processed slab during the manufacturing process.  With rolling temperatures of up to 1000C, furnace rolls see one of the harshest environments for any cast steel or alloy fabrication. Rollers also play a key role in shaping metal or transporting metal during the manufacturing process.
Generally furnace rolls are liquid cooled to enable them to operate at high temperature and the surface finish of the rolls is often critical to maintain the surface finish of the material being manufactured. Furnace rolls are commonly used in the steel manufacturing industry to make steel bars and sheets.
VEEM Ltd can supply Timcast "Centri Bar" furnace rolls either "as cast" or fully fabricated  with full traceability and NATA certification for mechanical, chemical, and NDT to meet most international standards.
Timcast "Centri Bar" is manufactured in accordance with following accreditations and or registrations where relevant:
ISO 9001:2008 – quality
ISO 14001:2004 – environmental
ABS foundry Approval
DNV foundry Approval – CU3
GL foundry and welding approval – CU3
IRS foundry approval – copper
RINA approval
Defence industrial security program Cert AF 7294940
Lloyd register approvals
 NATA registrations for:
Acoustic and Vibration Measurement
Chemical Testing
Non Destructive Testing (Mag, Liq Pen, MP PT &Visual Insp)