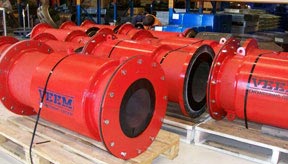 VEEM manufactures Timcast "Forever Pipe" high wear resistant pipe spools with an inner layer of a high wear resistant material and a pressure vessel material outer. These pipes are manufactured in a wide range of alloys due to the varying nature of each processing industry. Inner layer hardness ranging from 350 HBW to 650 HBW can be achieved without affecting the mechanical properties of the outer carbon steel layer.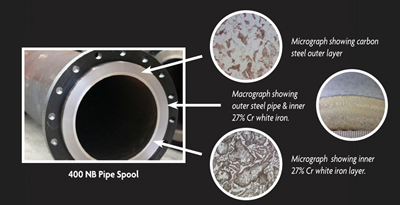 Precise control of the manufacturing process enables VEEM to create a metallurgical bond between the two metals which enables an ultrasonic thickness measurement to made of the pipe. Get the process wrong and there will be no bond or unacceptable dilution of one alloy into the other.
Timcast "Forever Pipe" offers
Cheaper purchase prices than competing cladded wear pipe.
Cost reductions of up to 92% of through life costs through an extended life of up to 10 times when compared to other hard facing methods,
The ability to perform thickness checks to monitor wear of the pipes in-service, using ultrasonic thickness testing.
Customized chemical, mechanical and wall thickness specifications of both layers to meet your specific requirements,
Pressure ratings to most common ASTM, AS & ASME/ANSI standards with pressure test certification available.