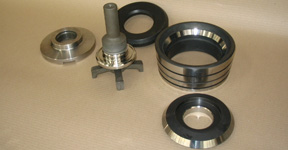 VEEM manufactures Timcast "Centri Bar" in a range of more than 250 alloys and sizes from 76mm to 1275mm outside diameter.
With both vertical and horizontal machines a wide variety of minimum lengths can be manufactured. Maximum lengths are up to 2700mm for some sizes.
Equipment and expertise are available to centrifugally cast concentric hollow shapes from a range of stainless steel, nickel and copper based alloys.
Chemical analysis in our NATA certified laboratory provides assurance that all alloys meet their specified requirements. We currently have a standard range of over 250 alloys and can produce custom alloys to suit your requirements.
Timcast "Centri Bar"offers
A perfectly tailored metallurgical specification for each customer
A perfectly tailored size specification for each customer
Up to 30% better mechanical properties than sand castings
Flexible order quantities and lead times