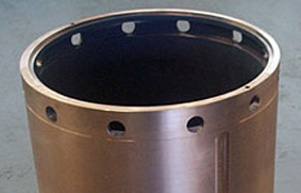 Bushes and bearing are required to be manufactured to such a wide variety of sizes that finding mill manufactured bearing and bush material is very difficult and usually requires large quantities to be purchased and involves a significant delivery delay.
As Timcast "Centri Bar" is manufactured from raw material stocks kept on site. Bearing and bush blanks can be manufactured in short lead times and to a large range of sizes in quantities as little as "one off".
Many bearing and bushes are specified to be manufactured by the centrifugal casting technique to take advantage of the denser closer-grained structure and improved physical properties.
VEEM Ltd can supply Timcast "Centri Bar" bearing and bushes either "as cast" or fully machined with full traceability and NATA certification for mechanical, chemical, and NDT to meet most international standards.
Timcast "Centri Bar" is manufactured in accordance with following accreditations and or registrations where relevant:
ISO 9001:2008 – quality
ISO 14001:2004 – environmental
ABS foundry Approval
DNV foundry Approval – CU3
GL foundry and welding approval – CU3
IRS foundry approval – copper
RINA approval
Defence industrial security program Cert AF 7294940
Lloyd register approvals
 NATA registrations for:
Acoustic and Vibration Measurement
Chemical Testing
Non Destructive Testing (Mag, Liq Pen, MP PT &Visual Insp)