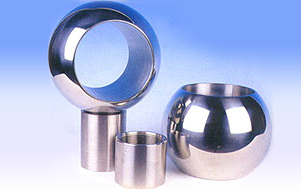 The spherical balls and the shaft sleeves used in ball valves are commonly manufactured from centrifugally cast alloys. Valve operate in a wide variety of applications and a great deal of research time is spent by manufacturers and users developing and testing specialised materials to give the greatest performance for specific valve applications. Timcast "Centri Bar" is the perfect solution for turning this development into reality. There is no compromise related to material selection or sizes required.
Timcast "Centri Bar" can be manufactured to suit a large range of sizes and over 250 different material specifications.
VEEM Ltd can supply Timcast "Centri Bar" ball valve components either "as cast" or fully machined with full traceability and NATA certification for mechanical, chemical, and NDT to meet most international standards.
Timcast "Centri Bar" is manufactured in accordance with following accreditations and or registrations where relevant:
ISO 9001:2008 – quality
ISO 14001:2004 – environmental
ABS foundry Approval
DNV foundry Approval – CU3
GL foundry and welding approval – CU3
IRS foundry approval – copper
RINA approval
Defence industrial security program Cert AF 7294940
Lloyd register approvals
 NATA registrations for:
Acoustic and Vibration Measurement
Chemical Testing
Non Destructive Testing (Mag, Liq Pen, MP PT &Visual Insp)